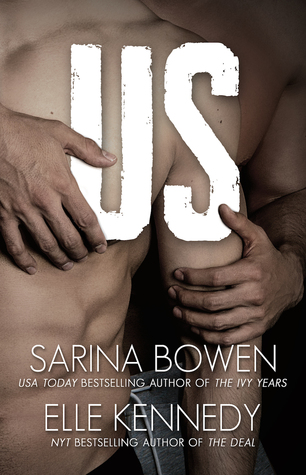 Us
Geschreven door
Sarina Bowen
Serie:
Him #2
Uitgever
Elle Kennedy Inc.
Op March 8th 2016
Genres:
LGBTQ+
,
Romance
Pagina's:
255
Goodreads
Can your favorite hockey players finish their first season together undefeated?

Five months in, NHL forward Ryan Wesley is having a record-breaking rookie season. He's living his dream of playing pro hockey and coming home every night to the man he loves—Jamie Canning, his longtime best friend turned boyfriend. There's just one problem: the most important relationship of his life is one he needs to keep hidden, or else face a media storm that will eclipse his success on the ice.

Jamie loves Wes. He really, truly does. But hiding sucks. It's not the life Jamie envisioned for himself, and the strain of keeping their secret is taking its toll. It doesn't help that his new job isn't going as smoothly as he'd hoped, but he knows he can power through it as long as he has Wes. At least apartment 10B is their retreat, where they can always be themselves.

Or can they?

When Wes's nosiest teammate moves in upstairs, the threads of their carefully woven lie begin to unravel. With the outside world determined to take its best shot at them, can Wes and Jamie develop major-league relationship skills on the fly?

Warning: contains sexual situations, a vibrating chair, long-distance sexytimes and proof that hockey players look hot in any shade of green.
Waarschuwing: dit boek bevat seks, drugs/alcohol of geweld.
Warning: this book contains sex, drugs/alcohol or violence
Mijn recensie:
Deel twee in deze fantastische serie! We gaan weer verder met Wes en Jamie en ook weer vanuit de verschillende POV's.
"You're not competing for him, dumbass. He's already yours."
We maken in deel twee kennis met nieuwe en oude karakters. Erg leuke personages.
Ik werd wel een beetje verdrietig van dit boek. Niet omdat het slecht was, precies het tegenovergestelde. Maar de verhaallijn was dit keer best sneu. Ik had medelijden met Wes en af en toe zat ik met een pruillipje te lezen. Hun relatie ging langzaam bergafwaarts, maar ik twijfelde niet aan de liefde tussen hun. Het was zo sterk aanwezig in boek één en ik wist daarom zeker wel dat het goed kwam in dit deel. Maar in mijn achterhoofd was er toch een zachte twijfeling aanwezig. We hebben hier tenslotte te maken met Sarina en Elly, ze zijn perfect samen, maar ze zijn ook heel goed in je hart breken.
Je merkt in dit deel dat Jamie een behoorlijke moeilijke start heeft en daardoor Wes pijn deed. Er komen steeds meer en meer en meer problemen bij, waardoor er langzaam een bom knapt en daarna gebeurt er iets vreselijks. Jamie is Jamie niet meer en Wes zijn hart wordt gebroken… Dit was het moment waarvan ik dacht… Laat maar zitten. Maar Mariëlle zei me dat ik door moest lezen, dus dat deed ik dan maar, haha.
"He has to play the Sharks tonight—a home game. And apparently I'm drinking umbrella drinks with the WAGS in a box somewhere."
En wat was ik blij dat ik het toch maar gedaan heb. Hoe vreselijk het ook was… Het einde was perfect, echt perfect en dan gaan we verder naar Wags #1. In een andere recensie.
0
Related Posts