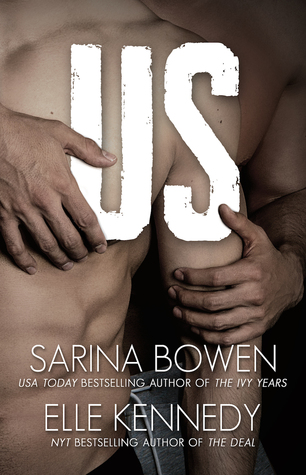 Us
By/Door
Sarina Bowen
Serie:
Him #2
Uitgever/Publisher
Elle Kennedy Inc.
Op/On March 8th 2016
Genres:
LGBTQ+
,
Romance
Pagina's/Pages:
255
Goodreads
Can your favorite hockey players finish their first season together undefeated?

Five months in, NHL forward Ryan Wesley is having a record-breaking rookie season. He's living his dream of playing pro hockey and coming home every night to the man he loves—Jamie Canning, his longtime best friend turned boyfriend. There's just one problem: the most important relationship of his life is one he needs to keep hidden, or else face a media storm that will eclipse his success on the ice.

Jamie loves Wes. He really, truly does. But hiding sucks. It's not the life Jamie envisioned for himself, and the strain of keeping their secret is taking its toll. It doesn't help that his new job isn't going as smoothly as he'd hoped, but he knows he can power through it as long as he has Wes. At least apartment 10B is their retreat, where they can always be themselves.

Or can they?

When Wes's nosiest teammate moves in upstairs, the threads of their carefully woven lie begin to unravel. With the outside world determined to take its best shot at them, can Wes and Jamie develop major-league relationship skills on the fly?

Warning: contains sexual situations, a vibrating chair, long-distance sexytimes and proof that hockey players look hot in any shade of green.
Waarschuwing: dit boek bevat seks, drugs/alcohol of geweld.
Warning: this book contains sex, drugs/alcohol or violence
My Review:
Part two in this fantastic series! We continue with Wes and Jamie and again from the different POVs.
"You're not competing for him, dumbass. He's already yours. "
In part two we are introduced to new and old characters. Very nice characters.
This book made me a bit sad. Not because it was bad, quite the opposite. But the storyline was pretty sad this time. I felt sorry for Wes and every now and then I read with a pout. Their relationship slowly went downhill, but I had no doubts about the love between them. It was so strong in book one and I was therefore sure that it would work out in this part. But in the back of my mind there was still a slight doubt. After all, we are dealing here with Sarina and Elly, they are perfect together, but they are also very good at breaking your heart.
You will notice in this part that Jamie has a pretty tough start and it hurt Wes. More and more and more problems arise, so that a bomb slowly bursts and then something terrible happens. Jamie is no longer Jamie and Wes's heart is broken … This was the moment I thought … Never mind. But Mariëlle told me to read on, so I did, haha.
"He has to play the Sharks tonight — a home game. And apparently I'm drinking umbrella drinks with the WAGS in a box somewhere. "
And how glad I was that I did it anyway. As horrible as it was … The ending was perfect, really perfect and then we move on to Wags # 1. In another review.
0
Related Posts