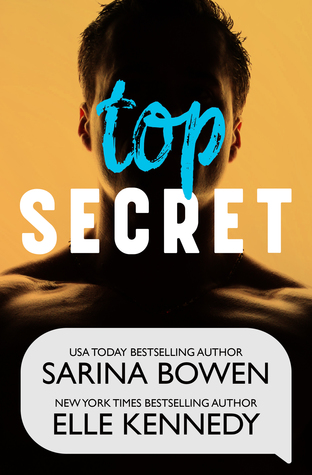 Top Secret
By/Door
Sarina Bowen
,
Elle Kennedy
Op/On 7 May 2019
ISBN:
1942444796
Genres:
LBGT
,
New Adult
Pagina's/Pages:
318
Goodreads
Bestselling authors Sarina Bowen & Elle Kennedy return with their first Male / Male romance in 3 years.




LobsterShorts, 21Jock. Secretly a science geek. Hot AF.

LobsterShorts: So. Here goes. For her birthday, my girlfriend wants…a threesome.

SinnerThree: Then you've come to the right hookup app.

LobsterShorts: Have you done this sort of thing before? With another guy?

SinnerThree: All the time. I'm an equal opportunity player. You?

LobsterShorts: [crickets!]

SinnerThree, 21Finance major. Secretly a male dancer. Hot AF.

SinnerThree: Well, I'm down if you are. My life is kind of a mess right now. School, work, family stress. Oh, and I live next door to the most annoying dude in the world. I need the distraction. Are you sure you want this?

LobsterShorts: I might want it a little more than I'm willing to admit.

SinnerThree: Hey, nothing wrong with pushing your boundaries...

LobsterShorts: Tell that to my control-freak father. Anyway. What if this threesome is awkward?

SinnerThree: Then it's awkward. It's not like we'll ever have to see each other again. Right? Just promise you won't fall in love with me.

LobsterShorts: Now wouldn't that be life-changing...

Q&A about Top Secret:

Q: Have we met these characters before in another book?A: No! These guys are brand new, and we can't wait for you to meet them.

Q: Is this story MM? Or is it a MMF / MFM / menage?A: This book is MM.

Q: Is this a love triangle story?A: Not really. You'll see.
Waarschuwing: dit boek bevat seks, drugs/alcohol of geweld.
Warning: this book contains sex, drugs/alcohol or violence
Het verhaal van Keaton & Luke.
LobsterShorts, 21
Jock. Stiekem een wetenschapsgeek. Hot AF.

LobsterShorts: Dus. Hier gaat die dan. Voor haar verjaardag wil mijn vriendin… een triootje.
SinnerThree: dan ben je bij de juiste hookup-app.
LobsterShorts: Heb je dit soort dingen eerder gedaan? Met een andere man?
SinnerThree: De hele tijd. Ik hou van allebei. Jij?
LobsterShorts: [krekels!]

SinnerThree, 21
Stiekem een ​​mannelijke danser. Hot AF.

SinnerThree: Nou, ik ben down als je dat bent. Mijn leven is nu een soort puinhoop. School, werk, gezinsstress. Oh, en ik woon naast de meest irritante gast ter wereld. Ik heb de afleiding nodig. Weet je zeker dat je dit wilt?
LobsterShorts: Ik zou het misschien meer willen dan ik wil toegeven.
SinnerThree: Hé, niets mis met het verleggen van je grenzen …
LobsterShorts: Vertel dat aan mijn controlfreak van een vader. Hoe dan ook. Wat als de trio vreemd is?
SinnerThree: Dan is het ongemakkelijk. Het is niet zo dat we elkaar ooit nog een keer zullen moeten zien. Toch? Beloof gewoon dat je niet verliefd op me zult worden.
LobsterShorts: Zou dat niet levensveranderend zijn…
"Logging out of the app last night was painfully hard. So was the state of my dick. You have no idea how hot it is helping a guy explore his sexuality.
Wat vind ik van Top Secret?
Ik had geen idee wat ik moest verwachten bij een nieuw MM romance van Elle en Sarina. God knows i love them. Maar ik hou gewoon van Wesmie en na het lezen van dit boek is daar niets aan veranderd.

Het was overduidelijk in hoe groot de verschillen waren in de verschillende van Keaton en Luke. Keaton was het typische geval van een rijke stinkerd terwijl Luke elke week de eindjes aan elkaar vast moest knopen. Twee hele grote verschillen en het ergste was dat ze bij elkaar in huis woonden. Ze hadden een gruwelijke hekel aan elkaar.

De app bracht ze bij elkaar terwijl Keaton zijn ex-vriendin de hele reden was voor de relatie tussen de twee mannen.

Ik vond het een erg leuk verhaal tussen twee mannen, die niets met elkaar wilden hebben en zo toch bij elkaar kwamen. Ze waren ontzettend schattig, lief en emotioneel. Niet zo emotioneel dat het een stel jankbakken waren, maar Sarina en Elle hadden heel goed beschreven hoe ze er zelf instonden.
"Acknowledging my sexuality is starting to feel inevitable. My attraction to Luke isn't just a one-off thing. My attraction to men is here to stay and keeping that bottled up feels wrong now. It makes the secret feel enormous."
Schrijfstijl:
Zoals gewoonlijk was de schrijfstijl weer heerlijk. Het las makkelijk weg en het was weer een heerlijk boek. Zelfs voor mensen die moeite hebben met Engels kunnen dit prima lezen!
"I'm just a guy, standing on a beach in nothing but his favorite pair of lobster shorts, waiting for the right man to love me."
Mariëlle's mening
Mijn verwachtingen waren hoog want Wesmie. Het is geen Wesmie. Het is Hayley. Luke is een echte mij jongen. Heerlijk brooding en worstelend met zichzelf en zijn omstandigheden. Keaton? Keaton ben ik. Ik ben Keaton. Hij was zo herkenbaar, op zijn seksua- nope die ook, want ik val ook op jongens. Al duurde het bij mij niet zo lang om daarachter te komen, haha. Ik vond dit een duidelijke combinatie van The Deal en Wesmie of iets in die trant. Het was eindelijk weer een M/M die ik HEEL goed vond. Ik heb wel goede gehad, maar niet heel goede. Er wordt geen nadruk gelegd op het homo zijn, maar gewoon op de relatie en ik hou daarvan. Het waren ook allebei echt mannen en geen verwijfde exemplaren zoals je wel eens in boeken ziet. Gewoon twee mannen die toevallig op elkaar vallen. Dit boek komt weer in mijn kast en staat trots naast Wesmie, waar hij ook echt trots mag staan.
Conclusie:
Allemaal lezen, want hij was geweldig!
0
Related Posts