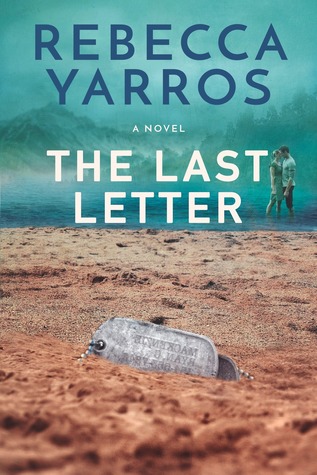 The Last Letter
By/Door
Rebecca Yarros
Uitgever/Publisher
Entangled: Amara
Op/On 26 February 2019
ISBN:
1640635335
Genres:
Romance
Pagina's/Pages:
426
Goodreads
Beckett,

If you're reading this, well, you know the last-letter drill. You made it. I didn't. Get off the guilt train, because I know if there was any chance you could have saved me, you would have.

I need one thing from you: get out of the army and get to Telluride.

My little sister Ella's raising the twins alone. She's too independent and won't accept help easily, but she has lost our grandmother, our parents, and now me. It's too much for anyone to endure. It's not fair.

And here's the kicker: there's something else you don't know that's tearing her family apart. She's going to need help.

So if I'm gone, that means I can't be there for Ella. I can't help them through this. But you can. So I'm begging you, as my best friend, go take care of my sister, my family.

Please don't make her go through it alone.

Ryan
Ik heb dit boek ontvangen in ruil voor een eerlijke recensie.
I received this book in exchange for an honest review
Mijn recensie van The Last Letter:
Sometimes bad things happen. And there's no blame to be placed. You can't reason with the universe, no matter how sound your logic is … We are imperfect people made that way by an imperfect world, and we don't always get a say in what shapes us.
Het verhaal van The Last Letter:
Beckett Gentry zit in het leger, hij is ervoor geboren en erbuiten heeft hij niemand. Zijn beste vriend Ryan zit in zijn unit. Hij heeft hem hier ontmoet en hier zegt hij vaarwel. Ryan komt om bij een missie. Helaas kan Beckett niet naar zijn begrafenis, maar hij krijgt Ryans laatste brief. Zijn wens: Ga naar Telluride en help mijn zusje. Ze zal het niet zeggen, maar ze heeft je hulp hard nodig.
Een aantal maanden later krijgt Beckett eindelijk verlof en doet hij wat zijn beste vriend van hem heeft gevraagd.
Schrijfstijl:
Ik heb eerder het eerste boek in de Flight & Glory serie gelezen in het Nederlands. Deze vond ik helaas niet fijn vertaald. Of nou ja, de seksscènes vond ik niet fijn vertaald. Gelukkig ligt dat blijkbaar aan de vertaler, want deze heb ik in de originele taal gelezen en daar past alles in een mooie, lieflijke schrijfstijl. Niks is ordinair (zoals ik dat toen ineens vond). Rebecca heeft een fijne stijl waardoor je je al snel goed in het verhaal waant. Het is vanuit zowel Ella als Beckett geschreven en je leest dus van allebei de gedachtegang, wat ik persoonlijk erg fijn vind. Ik vind dit een heerlijke schrijfstijl.
"Is this what it feel like?" he whispered so quietly that I leaned down.
"What it feels like?" I asked.
"Having a Dad?"
Wat vind ik van The Last Letter:
Ik heb mijn ogen eruit gejankt. Niet de hele tijd, maar jezus…
Dit is een prachtig boek. Een verhaal dat je meeneemt in een achtbaan en je daar niet meer uit laat tot je het dichtslaat.
De complete leestijd word je meegenomen door allerlei emoties die je zelf ook gaat ervaren. Je leeft mee met de karakters en wil ze vasthouden en sussen, zeggen dat het wel goedkomt allemaal. Maar komt het wel allemaal goed? Dat weet je niet. Alles wat er gebeurd is niet simpel op te lossen met een paar kleine handelingetjes. Het is het lot, en hulp die je als moeder niet eens kan bieden.
Dit boek heeft me zo geraakt dat ik niet eens weet hoe ik het moet beschrijven. Ik las het uit en ik huilde zo hard dat ik bijna geen lucht kreeg. Godzijdank sliep mijn man, want hij zou me uitlachen. Ja, zo'n man heb ik. Stel je niet aan het is nep… En bedankt…
Dit boek zorgde ervoor dat ik al jankend aan het bedje stond van mijn kids om freaking half één 'snachts. Het zorgde ervoor dat ik stiekem blij was dat Mycah wakker werd zodat ik hem even vast kon houden. Dit is wat er met mij gebeurde.
Durf jij nog?
I'd rather be great for a few people than be mediocre for a bunch.
Conclusie :
Deelt alvast tissues uit.
0
Related Posts