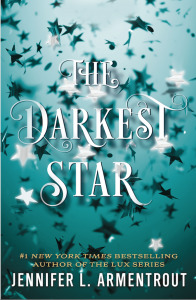 The Darkest Star
By/Door
Jennifer L. Armentrout
Serie:
The Darkest Star #1
Uitgever/Publisher
Tor Teen
Op/On 30 October 2018
ISBN:
1250175739
Genres:
Fantasy
,
Paranormal Romance
,
Young Adult
Pagina's/Pages:
368
Goodreads
When seventeen-year-old Evie Dasher is caught up in a raid at a notorious club known as one of the few places where humans and the surviving Luxen can mingle freely, she meets Luc, an unnaturally beautiful guy she initially assumes is a Luxen...but he is in fact something much more powerful. Her growing attraction for Luc will lead her deeper and deeper into a world she'd only heard about, a world where everything she thought she knew will be turned on its head...

#1 New York Times, USA Today, and internationally bestselling author Jennifer L. Armentrout returns to the universe of the Lux in this brand new series, featuring beloved characters both new and old.
Mijn Recensie:
"There's nothing we can do other than live with the promise of tomorrow while knowing it may not come."
Toen Jennifer bekend maakte dat ze een serie zou beginnen in de wereld van de Luxen… Nou ik was zo ontzettend blij dat ik wel een gat in de lucht kon springen. Ik had het boek dan ook op de publicatiedatum gelezen en binnen anderhalve dag had ik hem uitgelezen.
Wanneer zeventien oude Eveie Dasher wordt ontdekt in een club waar de mens en Luxen kunnen samen leven, ontmoet ze Luc. Een man waarvan ze denkt dat hij een Luxen is maar eigenlijk is hij iets heel anders. Haar groeiende fascinatie voor hem lijdt haar dieper en dieper in een wereld waar ze eerst alleen van gehoord had. Een wereld waarvan ze dacht dat ze alles wist…
"His shirt read MUGGLE IN THE STREETS, WIZARD IN THE SHEETS."
Het boek is alleen vanuit Evie POV geschreven. Ik vond haar een heel prettig karakter. Ze was slim, soms een beetje naïef (op een leuke manier), sarcastisch (en daar hou ik van) en totaal niet bang om situaties in te lopen die eigenlijk veel te gevaarlijk voor haar zijn.
Luc, daarentegen, precies zoals hij in Lux serie ook was. Arrogant, sarcastisch (yep, again) maar overduidelijk zorgzaam en gevoelig. Dit liet hij dan ook merken als het om Evie ging.
Hoewel ik mezelf afvroeg waar dit boek over zou kunnen, werd het naarmate ik las steeds duidelijker (We laten het feit even weg waarin de echte oorzaak nog op de achtergrond ligt) maar goed. Er was een gevaar waardoor zowel mens als Luxen niet veilig is en Luc en Evie proberen erachter te komen wat dit is (een groot deel van het boek). Het andere deel is vol verraad in een wereld waarin ze elkaar moesten vertrouwen. Of ze dit nu wilden of niet.
"So damn beautiful that it sometimes kills me a little each time I look at you."
Oude bekende kwamen ook weer naar voren. (Nog altijd fan van hen).
Wat mij het meest verraste tijdens dit was, dat mensen waarin ik verwacht geen grote rol te spelen… Uiteindelijk toch grote doosdoeners waren. Onverwacht en vaak heb ik wel door waar een verhaal heen gaat.
Overigens gebruikte Jennifer allerlei verwijzingen naar andere boeken en werelden die voor ons allemaal bekend zijn. Erg leuk!
Met vier sterren wacht ik af op deel twee.
"That was what I wanted at some point in my life, for someone to look at me the way I looked at tacos."
0
Related Posts