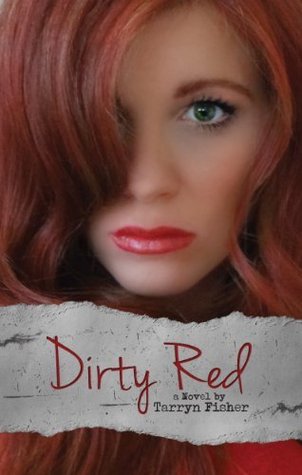 Dirty Red
By/Door
Tarryn Fisher
Serie:
Love Me With Lies
,
#2
Uitgever/Publisher
CreateSpace
Op/On January 15th 2013
ISBN:
1481948997
Genres:
New Adult
Pagina's/Pages:
265
Goodreads
Dear Opportunist,

You thought you could take him from me, but you lost. Now, that he's mine I'll do anything to keep him. Do you doubt me? I have everything that was supposed to be yours. In case you were wondering; he doesn't ever think about you anymore. I won't let him go....ever.

Dirty Red

Leah Smith finally has everything she has ever wanted. Except she doesn't. Her marriage feels more like a loan than a lifelong commitment, and the image she has worked so hard to build is fraying before her eyes. With a new role and a past full of secrets, Leah must decide how far she is willing to go to keep what she has stolen.
Mijn recensie van Dirty Red:
I have done a number of things to keep this man. I have lied and cheated. I have been sexy and meek, fierce and vulnerable. I have been everything but myself.
 Het verhaal van Dirty Red.
Leah Smith heeft alles wat ze wil. Ze is met Caleb getrouwd en ze heeft een dochter. Jammer voor Leah is dat ze jaloers op haar dochter is, want nu ze Olivia uit de weg heeft geruimd, heeft ze nog de onverdeelde aandacht van Caleb niet.
Haar zorgvuldig opgebouwde leventje lijkt bijna te leen en ze moet eens goed nadenken hoe ver ze voor Caleb wil gaan.
A woman should never have to fight so hard to be with a man. He should just want her.
Schrijfstijl:
Tarryn schrijft vanuit de eerste persoon. Je wordt compleet het verhaal ingezogen en er wordt goed gebruik gemaakt van Show don't tell. Je wilt maar blijven doorlezen. Leah is een geval apart en Tarryn beschrijft haar zo goed dat je echt het idee hebt dat je haar begrijpt. Op haar manier.
Wat ik goed vind, is dat het verhaal van Olivia niet wordt herhaalt vanuit Leah, maar dat het juist doorgaat. Heel mooi gedaan.
When they're together, it's like putting a hurricane and a tornado in the same room – you can feel the tension. I didn't believe in the cliche of soul mates until I saw them together.
Wat vind ik van Dirty Red?
Opnieuw heb ik geschreeuwd. Gelachen en gehuild niet, want ik vind Leah een kreng, een bitch, een kutwijf. Dus waar ik normaal zou huilen, dacht ik nu: lekker voor je kreng. xD
Ik heb menig moment met mijn mond open naar mijn ereader zitten kijken en gedacht: wtf… wie doet dat nou? Hoe ziek ben je in je hoofd? Ik vind het heel knap hoe Tarryn dit over weet te brengen en ze blijft me boeien met dit verhaal.
Love is illogical. You fall into it like a manhole. Then you're just stuck. You die in love more than you live in love.
Conclusie
Loved it.
0
Related Posts