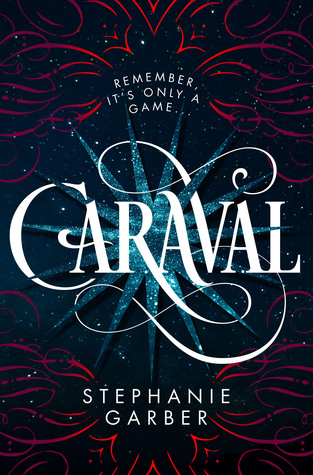 Caraval
By/Door
Stephanie Garber
Serie:
Caraval
,
#1
Uitgever/Publisher
Flatiron Books
Op/On January 31st 2017
ISBN:
1250095255
Genres:
Fantasy
,
Young Adult
Pagina's/Pages:
407
Goodreads
Remember, it's only a game…

Scarlett Dragna has never left the tiny island where she and her sister, Tella, live with their powerful, and cruel, father. Now Scarlett's father has arranged a marriage for her, and Scarlett thinks her dreams of seeing Caraval—the faraway, once-a-year performance where the audience participates in the show—are over.

But this year, Scarlett's long-dreamt-of invitation finally arrives. With the help of a mysterious sailor, Tella whisks Scarlett away to the show. Only, as soon as they arrive, Tella is kidnapped by Caraval's mastermind organizer, Legend. It turns out that this season's Caraval revolves around Tella, and whoever finds her first is the winner.

Scarlett has been told that everything that happens during Caraval is only an elaborate performance. Nevertheless she becomes enmeshed in a game of love, heartbreak, and magic. And whether Caraval is real or not, Scarlett must find Tella before the five nights of the game are over or a dangerous domino effect of consequences will be set off, and her beloved sister will disappear forever.

Welcome, welcome to Caraval…beware of getting swept too far away.
Mijn recensie van Caraval (Het zwarte hart):
Every person has the power to change their fate if they are brave enough to fight for what they desire more than anything.
Het verhaal van Caraval.
Scarlett en haar zusje Donnatella leven onder de tiran van hun vader op een eiland. Alles wat Scarlett ooit heeft gewild, was Caraval een keer meemaken. Ze schrijft al jarenlang brieven aan Legend, de man die Caraval runt.
En dit jaar krijgt ze een uitnodiging. Geholpen door een zeeman komen zij en haar zusje aan en dan wordt haar zusje gekidnapt. Maar Scarlett is verteld dat ze niet alles moet geloven. Het is een spel en een grote optreden. Scarlett moet Donnatella vinden voordat Legend haar iets aandoet.
She imagined loving him would feel like falling in love with darkness, frightening and consuming yet utterly beautiful when the stars came out.
Schrijfstijl:
Stephanie beschrijft alles super levendig en je ziet het verhaal voor je ogen afspelen. Haar karakters blijven heel goed in hun huid en je kunt je goed inleven. Ik vind dat ze een fijne schrijfstijl heeft.
Hope is a powerful thing. Some say it's a different breed of magic altogether. Elusive, difficult to hold on to. But not much is needed.
Wat vind ik van Caraval
Het kwam langzaam op gang, maar iedereen zei dat het echt goed was. En op zich wilde ik ook wel weer weten wat er zou gebeuren en dus las ik door. Gelukkig. Want het werd echt goed en ik werd in het verhaal gezogen.
Voor mij persoonlijk was het verhaal zonder Julian een stuk minder interessant. Hij was voor mij degene met de leuke opmerkingen en ideeën. Scarlett vond ik soms een beetje zeuren. Alles was erg en verschrikkelijk. Ze laat alles afhangen van haar zusje. Aan een kant begrijp ik haar, maar soms vond ik het een tikkeltje overdreven.
Het eind vond ik hierdoor niet supersterk. Voor mij was een ander einde veel interessanter geweest. Ook vond ik de proloog met aanzet voor het volgende boek een beetje minder. Als boek 2 over dit onderwerp gaat, weet ik niet of ik geboeid blijf. Maar al met al een goed boek.
No one is truly honest," Nigel answered. "Even if we don't lie to others, we often lie to ourselves. And the word good means different things to different people.
Conclusie
Heel leuk boek
0
Related Posts