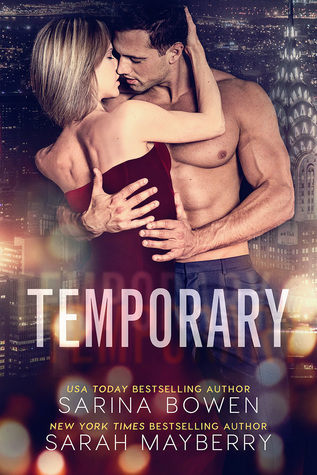 Temporary
By/Door
Sarina Bowen
,
Sarah Mayberry
Uitgever/Publisher
Rennie Road Books
Op/On September 12th 2017
Genres:
Romance
Pagina's/Pages:
302
Goodreads
The most beautiful man I've ever seen is the one who can ruin everything...

The first time I lay eyes on Callan Walker, I know he'll be trouble. With his smug grin, hot Aussie accent and thousand dollar shoes, he's just the kind of rich guy who always gets what he wants.

And he wants two things: a night of sin, and my cooperation as he outmaneuvers his powerful mother to take control of his uncle's estate.

I can't afford either one. I'm the only thing standing between my little sister and the foster care system. He may have money and charm on his side, but I have something even more powerful -- pure desperation. This temp job at his mother's company can become a full time job for me. It has to.

But when Callan's eyes rake over my body, sometimes I forget my obligations. His piercing gaze finds the fun, optimistic girl I used to be and not the tired person I've become.

And it works--if only for a moment. Our night together was a mistake. I can't afford to get sucked into his high-powered family's treachery. But the closer I get to Callan, the more layers I find beneath those expensive clothes. Though I can't forget this is temporary. He's temporary. I have too much to lose.

Too bad my foolish heart didn't get the memo...
Waarschuwing: dit boek bevat seks, drugs/alcohol of geweld.
Warning: this book contains sex, drugs/alcohol or violence
Mijn recensie van Temporary:
"Fuck," I yelped, leaping backward, one hand clutched to my chest like a damsel in distress.
"Let me guess—live panther, chained in the corner?" Jasmine asked.
"I have to go," I said, not taking my eyes off the man in the armchair. He lifted one eyebrow in a silent expression of curiosity. "I'll call you later, okay?"
"At least tell me if there's a panther or not," Jasmine said.
"No panther. I have to go."
Het verhaal van Temporary.
Grace heeft veel aan haar hoofd. Ze heeft een tijdelijke baan en dat moet een vaste worden. Ze moet immers haar zusje onderhouden, want ze wil niet dat die bij een pleeggezin terecht komt.
Haar baan is bij het Walker imperium en ze krijgt een vreemd verzoek. De broer van de bazin – die uit Australië komt – is overleden en ze mag al zijn spullen uitzoeken, taxeren en laten veilen.
Callan hoort meer dan een week later dat zijn favoriete oom is overleden. Hij is het zwarte schaap van de familie, net zoals zijn oom was. Zijn oom is zelfs al gecremeerd zonder ook maar iets aan iemand te laten weten. Voor Callan is het duidelijk: zijn harteloze moeder wil zijn oom zo snel mogelijk van de aarde vegen.
Supersnel vliegt Callan naar New York om te zorgen dat de laatste wensen van zijn oom worden gehonoreerd. En daar ontmoet hij Grace.
I removed the filter, chucked the puck of wet grounds into the trash and turned the grinder back on. Maybe that's a waste, but an imperfect coffee just wouldn't do right now.
Schrijfstijl:
Ik ben een groot fan van Sarina Bowen. En dus toen ik een ARC kon aanvragen deed ik dat meteen. Vorige week heb je ook het interview kunnen lezen met beide schrijfsters. Super blij ben ik dat ik de ARC ook heb gekregen want het was weer genieten. Het wordt vanuit beide karakters verteld en je leeft je super makkelijk in. Veel leuke grapjes en veel serieuze shit. Veel show, weinig tell. Het voelt erg echt.
"Omigod," Olivia said after tasting the yellowtail tartar. "That was amazing. But why is it not in the shape of babyJesus?"
Wat vind ik van Temporary?
Ik heb gehuild en ik heb hysterisch gelachen. Ik heb ook gewoon normaal gedaan hoor. For the record. Maar het was geweldig. Ik weet weer waarom Sarina een van mijn voorbeelden is en ik moet heel snel eens iets gaan lezen van Sarah. Ik hou van zowel Grace als van Callan. Ze zijn perfect voor elkaar. Dit boek was geweldig en hij heeft weer een plekje in mijn boekenhart. Je moet het echt snel lezen!!
"You said it was important," Victoria Walker said, her voice clear despite the fact Callan wasn't using the speaker function. The woman was loud.
Conclusie
Weer een topper! Op zoek naar Sarahs boeken 😀
0
Related Posts