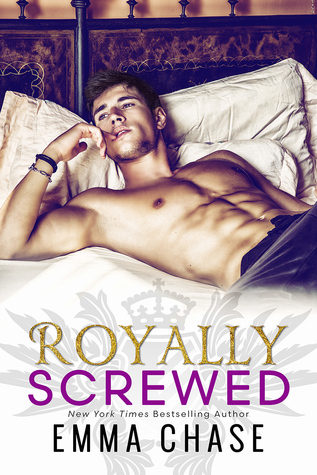 Royally Screwed
By/Door
Emma Chase
Serie:
Royally #1
Uitgever/Publisher
Emma Chase LLC
Op/On October 18th 2016
Genres:
New Adult
Pagina's/Pages:
301
Goodreads
Nicholas Arthur Frederick Edward Pembrook, Crowned Prince of Wessco, aka His Royal Hotness, is wickedly charming, devastatingly handsome, and unabashedly arrogant; hard not to be when people are constantly bowing down to you.

Then, one snowy night in Manhattan, the prince meets a dark haired beauty who doesn't bow down. Instead, she throws a pie in his face.

Nicholas wants to find out if she tastes as good as her pie, and this heir apparent is used to getting what he wants.

Dating a prince isn't what waitress Olivia Hammond ever imagined it would be.

There's a disapproving queen, a wildly inappropriate spare heir, relentless paparazzi, and brutal public scrutiny. While they've traded in horse drawn carriages for Rolls Royces, and haven't chopped anyone's head off lately, the royals are far from accepting of this commoner.

But to Olivia, Nicholas is worth it.

Nicholas grew up with the whole world watching, and now Marriage Watch is in full force. In the end, Nicholas has to decide who he is and, more importantly, who he wants to be: a King... or the man who gets to love Olivia forever.
Waarschuwing: dit boek bevat seks, drugs/alcohol of geweld.
Warning: this book contains sex, drugs/alcohol or violence
Mijn recensie:
Is het mogelijk dat iemand me een Nicholas voor mijn verjaardag geeft? Want ik wil er heel graag één hebben. Voor één dag is al genoeg.
"You're stunning, obviously clever – you should date often, and preferably with a man who knows how it's done." I rest my palm on my chest. "Coincidentally, I happen to be fantastic at it. What are the odds?"
Emma Chase i love you. Wat een boek, wat een boek. We lezen al dat Nicholas een prins van Engeland is en wauw, wat voor één. De manier waarop hij zichzelf presenteert, op een sarcastische grappige manier. Ik was al verliefd bij de eerste opmerking. Dit is zo'n typisch ik-doe-net-alsof-ik-niets-voor-je-voel-verhaal. We lezen trouwens vanuit Olivia en Nicholas hun POV. De afwisseling is erg leuk, vooral omdat Nicholas is wie hij is en hij laat er geen gras over heen groeien. Hij is direct en weet wat hij wilt, terwijl Olivia iemand is die afstand neemt en geen zin heeft in de man die voor haar zit of staat. Dat brengt leuke situaties met zich mee.
"Five thousand dollars? For a kiss?"
Zoals de quote die hierboven staat. Natuurlijk kennen we allemaal wel een versie op een liefdesverhaal waarin een prins verliefd word op een burger, maar dat betekent niet dat verhaal niet op je tbr lijst moet liggen. Emma Chase is een geweldige schrijfster en het zeker waard om iets van haar te lezen.
Ik had tijdens het lezen wat 'oh' momentje, want jeetje zeg… Van sommige dingen ging mijn hart wel even wat harder kloppen. Een plot twist die ik niet had zien aankomen kwam (wat ik eigenlijk wel had zien moeten aankomen) kwam opeens tevoorschijn.
"A chaser-away of monsters under the bed, a sneaker of cookies before dinner, an encourager, a protector, a teacher of what a real man is supposed to be."
Lees dit boek en je zal echt niet teleurgesteld worden. Het is een lekkere weglezer en besides… Nicholas. Dat is het enige woord wat er voor nodig is, toch?
0
Related Posts