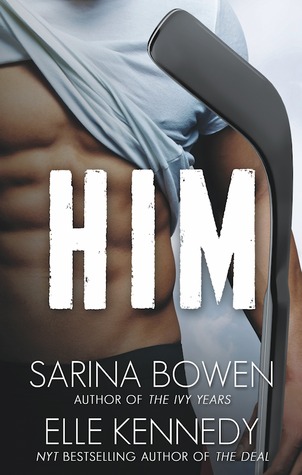 Him
By/Door
Sarina Bowen
,
Elle Kennedy
Serie:
Him #1
Uitgever/Publisher
Rennie Road Books
Op/On July 28th 2015
ISBN:
1942444079
Genres:
LBGT
,
New Adult
Pagina's/Pages:
360
Goodreads
They don't play for the same team. Or do they?

Jamie Canning has never been able to figure out how he lost his closest friend. Four years ago, his tattooed, wise-cracking, rule-breaking roommate cut him off without an explanation. So what if things got a little weird on the last night of hockey camp the summer they were eighteen? It was just a little drunken foolishness. Nobody died.

Ryan Wesley's biggest regret is coaxing his very straight friend into a bet that pushed the boundaries of their relationship. Now, with their college teams set to face off at the national championship, he'll finally get a chance to apologize. But all it takes is one look at his longtime crush, and the ache is stronger than ever.

Jamie has waited a long time for answers, but walks away with only more questions—can one night of sex ruin a friendship? If not, how about six more weeks of it? When Wesley turns up to coach alongside Jamie for one more hot summer at camp, Jamie has a few things to discover about his old friend... and a big one to learn about himself.

Warning: contains sexual situations, skinnydipping, shenanigans in an SUV and proof that coming out to your family on social media is a dicey proposition.
Waarschuwing: dit boek bevat seks, drugs/alcohol of geweld.
Warning: this book contains sex, drugs/alcohol or violence
Mijn recensie:
Deze twee mannen… Holy shit. Ik ben zo verliefd op dit stel als ik nu een wens kon doen, wenste ik dat ze op mijn bank zaten. Wes en Jamie zijn om bij weg te smelten.
De connectie tussen Wes en Jamie is om je vingers bij af te likken. Ze zijn werkelijk zo schattig samen dat ik er niet eens de woorden voor heb.
Wes is de stoere van de twee, heeft een grotere mond, doet een beetje stoer en probeert nog een beetje afstand te creëren.
"Jamie Canning was my first crush and my first love. But he was never mine to have."
Jamie is de zorgzame en uiteindelijk toch de persoon die alles wilt.
De relatie die tussen hun tot stand komt is erg mooi, maar uiteindelijk komt er overal een einde aan. Naarmate ik verder kwam wist ik dat het eraan zat te komen en daardoor dacht ik: 'Ik ga dit niet meer verder lezen.' Ik vond het een vreselijk idee dat het op een moment klaar was.
"My weakness is him."
Het verhaal switched tussen de POV van Wes en Jamie en daardoor wist ik precies wie wat dacht. De simpele gedachtegang als het ging om wat ze voor elkaar voelde was erg mooi. En een soort rauwheid. Hoe Wes Jamie behandelde vond ik erg lief, zo teder en omg, ik wil ze gewoon knuffelen.
Dit boek was gewoon FRICKING AMAZING.
"I'm attracted to women, no doubt about it.
I'm also attracted to men, apparently. Wonderful.
Complicated fellow, my dick."
0
Related Posts