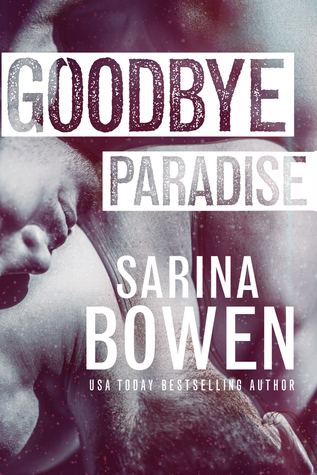 Goodbye Paradise
By/Door
Sarina Bowen
Serie:
Hello Goodbye
Uitgever/Publisher
Rennie Road Books
Op/On March 21st 2017
ISBN:
1942444362
Genres:
LGBTQ+
,
Romance
Pagina's/Pages:
266
Goodreads
Most people called it a cult. But for twenty years, Josh and Caleb called it home.

In Paradise, there is no television. No fast food. Just long hours of farm work and prayer on a dusty Wyoming ranch, and nights in a crowded bunkhouse. The boys of the Compound are kept far from the sinners' world.

But Joshua doesn't need temptation to sin. His whole life, he's wanted his best friend, Caleb. By day they work side by side. Only when Josh closes his eyes at night can they be together the way he craves.

It can never be. And his survival depends on keeping his terrible desires secret.

Caleb has always protected Josh against the worst of the bullying at the Compound. But he has secrets of his own, and a plan to get away — until it all backfires.

Josh finds himself homeless in a world that doesn't want him. Can Caleb find him in time? And will they find a place of safety, where he can admit to Josh how he really feels?

Warning: Contains a hot male/male romance, copious instances of taking the Lord's name in vain, and love against the kitchen counter. This book was previously released under the title: In Front of God & Everyone.
Waarschuwing: dit boek bevat seks, drugs/alcohol of geweld.
Warning: this book contains sex, drugs/alcohol or violence
My Review:
I went to read Sarina Bowen's books because of Mariëlle. I fell in love with the person songs and the writing style in this book. Since I had read previous books by Sarina, I had not expected at all what happened in this book. From the summary you can almost find out where Caleb and Josh live. I hated to read about it and what happened, which made me hate it even more. How people are treated within the walls of this religion is something that should never happen.
And then he kissed him. Right on the lips. In front of God and everybody. "
Caleb and Josh are two completely different people. Their characters are clearly visible and you know very well who is who.
Hopefully it is clear that it is a gay romance, but that does not alter the fact that it is normal for two people of the same sex to have a relationship. I found the way this was made very sweet and cute. It particularly reflected where they were in their relationship and the associated additional events.
Well I needed it. Probably tonight. Because if Caleb was serious about leaving me, I was not going to spend another night beside him. Not ever again. "
Caleb and Josh have got a place in my heart, because they are the best. And even though they aren't real, they should get the respect they deserve in real life.
Put this on your TBR list!
0
Related Posts