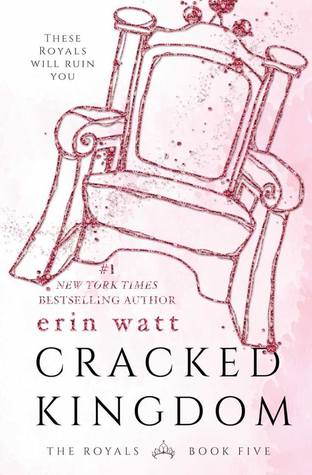 Cracked Kingdom
By/Door
Erin Watt
Serie:
#5
Uitgever/Publisher
Erin Watt
Op/On January 1st 1970
Genres:
New Adult
Pagina's/Pages:
305
Goodreads
These Royals will ruin you.



Ever since Hartley Wright met Easton Royal, her life hasn't been the same. There are enemies behind every corner and dangers beyond each door. When tragedy strikes and steals her memories, she can't trust anyone, not even the blue-eyed boy who promises her that everything will be all right.

Because while Hartley's memory is full of gaps, her instincts tell her Easton is dangerous. She doesn't know if he's the snake in the garden or her chance at salvation. The chaos he brings wherever he goes is too much to handle, the intense feelings he evokes are too confusing to unravel. Easton wants her to remember. Hartley thinks it's better to forget. She might be right. Tragedy. Treachery. Trust. Hartley has to face the facts—in this world, you can't escape the Royals.

Either you live by their rules or you die by them.
Mijn Recensie:
"I wasn't seeking a place, but a person. I'd come home."
Deze Royals zullen je ruineren.
Sinds Hartley Easton heeft ontmoet, is haar leven niet hetzelfde geweest. Er staan vijanden om elke hoek en gevaar achter elke deur. Wanneer tragedie haar geheugen wegneemt, kan ze niet iedereen meer vertrouwen, niet eens de jongen met de blauw ogen wie haar heeft belooft dat alles goed komt.
Haar geheugen zit vol met gaten en haar instincten vertellen haar dat ze Easton niet kan vertrouwen. Ze weet niet of hij een slang is of haar kans op redding. De choas die hij met zich meebrengt is te veel om ermee om te gaan en de gevoelens die hij oproept zijn de vreemd om te ontrafelen.
Easton wil haar alles laten herinneringen. En Hartley denkt dat het beter is om het te laten rusten.
Misschien heeft ze gelijk.
"Because he's Easton Royal and I have zero self-control, because my sore heart needs all the sun it can get, because I love him back, I throw myself into his arms and kiss him."
Dit is het vijfde boek uit de serie van The Royals. Ik kan nog steeds niet anders zeggen dat het een fijne schrijfstijl is die lekker wegleest. Alle details zijn goed verwerkt, waardoor alles nog altijd even duidelijk is. Ja, ik ben nou eenmaal van haar.
In boek vier lezen we al over Easton en Hartley en in dit deel gaan het daarop verder. Boek vier eindigt namelijk met een cliffhanger die zo gezegd, ZWAAR ROT WAS. En het eerste wat we dan ook lezen is dat we in het ziekenhuis zijn belandt.
Wie 1,2,3 en 4 heeft gelezen, kennen de waarschijnlijk de karakters net als ik. Ze ruineren alles, maken er een rotzooi van en jeetjemina ik denk dat dit deel wel de ergste was. Hartley heeft geheugenverlies. Felicia probeert haar gek te maken. Easton probeert Hartley te helpen. De rechtszaak van Ella's vader speelt nog op de achtergrond. De tweeling is soort van uit elkaar. Mijn god, teveel om op te noemen. Daarbij wisten we al dat Easton veel alcohol dronk, maar hoewel ik dacht dat hij in de vorige boeken een alcoholist was, is het te merken dat het nu wel het geval is. De arme jongen is duidelijk de weg kwijt.
Hoewel het verhaal over Easton en Hartley ging was ik continu gefocust op de tweeling. Ik heb dit eigenlijk al vanaf boek drie en ik eis gewoon dat er een boek zes komt, maar daar gaat deze recensie niet over. Het probleem ligt hem in het feit dat Erin Watt zelf bezig is geweest om de zijtak naar de tweeling te creëren en ik vind dat hij gewoon duidelijk naar voren komt.
Wat ik echter heel fijn vond was hoe ze de mishandeling van Hartley meer naar voren heeft gebracht en hoe erg haar familie eigenlijk wel niet was. De fysieke en geestelijke mishandeling was echt uit den boze en ik was dan ook meer dan blij dat de daders daarvoor eindelijk werden gestraft.
"Seriously, though, I know who my family is. Gid, Reed, and the twins are my brothers. Ella's my sister. Callum's my dad. Maria's my mom. And you, you're my heart."
Overal was het weer een fijne read van Erin!
Maar… maar ze kan deze serie echt niet zo laten eindigen…
0
Related Posts