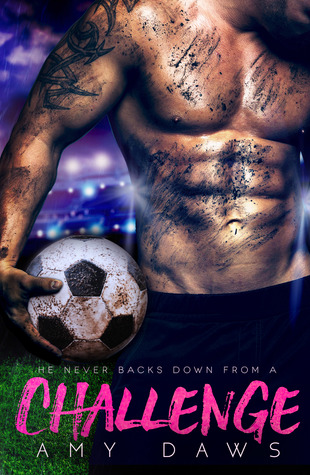 Challenge
By/Door
Amy Daws
Serie:
Harris Brothers
,
#1
Uitgever/Publisher
Stars Hollow Publishing
Op/On 23 September 2016
ISBN:
1944565043
Pagina's/Pages:
318
Goodreads
He's her patient. She's his doctor. They shouldn't. But God, do they want to.

Camden Harris, the famously hot, hulk of a footballer is laid up in a London hospital. But his busted knee doesn't stop him from running his well-practiced game on Indie Porter—his redheaded spitfire of a doctor. She's not his type, not even close. But she could be the perfect distraction from the soul-crushing damage this injury could cost him.

Indie's tired of her naivety putting a target on her back. As a gifted child, she's let her education take the front seat her whole life. But a fling with a footballer like Camden might be just what she needs to grab life by the balls.

And he could be the perfect guy for the plan she's been sitting on for over two years.

But when feelings make a final play, there's no amount of medicine that can heal the damage to their hearts.
Waarschuwing: dit boek bevat seks, drugs/alcohol of geweld.
Warning: this book contains sex, drugs/alcohol or violence
Hij is haar patiënt. Zij is zijn dokter. Ze zouden het niet moeten doen, maar wat willen ze het graag.

Camden Harris, de beroemde voetballer, ligt in het ziekenhuis in Londen. Zijn kapotte knie weerhoudt hem er niet van om zijn geflirt op Indie Porter los te laten. Zijn roodharige dokter. Ze is zijn type niet. Ze komt niet eens in de buurt. Maar ze zou de perfecte afleiding kunnen zijn.

Indie laat haar hele opleiding haar hele leven al voor gaan. Een affaire met een voetballer, als Camden, is misschien precies wat ze nodig heeft om weer tot leven te komen. Hij kan de perfecte man zijn voor haar plan.

Wanneer gevoelens een spel spelen dan is er geen enkel medicijn dat hun hart kan genezen.

"One of these days, I won't have a painful deadline! That's a lie, I probably always will." 



Hoewel ik helemaal niks met voetbal heb, besloot ik dit boek toch een kans te geven. Ik ben blij dat ik dit heb gedaan.

Camden is zo typische beroemdheid die vrouwen voor het grijpen heeft terwijl Indie leeft voor haar opleiding en toekomst. Ze zijn dus totaal het tegenovergestelde. Hun aantrekkingskracht zou niet moeten bestaan maar dit doet het toch.

Camden en Indie hebben zo schattige dokter-patiënt relatie dat ik ze allebei in hun wangetjes wilden knijpen. Allebei zo ontzettend onwetend terwijl ze dondersgoed weten waar ze mee bezig zijn.

Elke situatie levert de meest grappige situaties op die in een ziekenhuis helemaal niet mogen voorkomen. Hoe meer hoofdstukken ik las, hoe meer veranderingen ik opmerkten. Vooral bij Camden komen ze goed naar voren. Hij is namelijk een sexy voetballer. Heel bewust van zichzelf tot hij zich realiseert dat er meer in het leven is dan een nachtelijk avontuur.
Indie, daarentegen, is beschadigd door haar jeugd en heeft moeite om zich open te stellen. Het duurt dan ook even voordat ze echt loskomt.

Het was een superleuke love story.
"I'm drowning. I'm drowning in deep, dark, delirious destiny. I'm in a place I never want to leave. A place I never want to say goodbye to. A place I never want to let go. Just sinking further and further into a world I've never known."
Camden is tot nu toe mijn favoriete Harris en ik denk dat dit wel zo blijft. In Challenge komen ze meerdere keren even naar voren maar Camden is het gewoon.

Ook al hoe je niet van voetbal… Je kunt dit boek makkelijk lezen. Je zal niet teleurgesteld worden.
0
Related Posts